This year, the Forum goes virtual with a rich programme
31 Jan 2021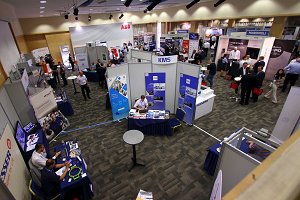 Dear colleagues, partners and friends in profession, the preparations for Industrial Forum IRT 2021 are well under way! Even though this year our socializing is taking place online, the programme of the 12. Industrial Forum remains top notch. The Forum remains a two-day event and will deliver all the main focus points that you are used to.
The two-day programme includes:
online presentations of achievements by Slovenian industry and individuals,
new knowledge and presentations by influential experts, streamed online,
a round table with renowned experts discussing the state of affairs,
e-coffee breaks for networking with the other attendees,
a virtual trade exhibition with direct real-time access to the exhibitors.
After a gap in 2020, a special and highly anticipated culmination of this year's Forum will be the presentation of the prestigious TARAS award. A refresher: the TARAS award is presented for outstanding collaboration between business sector and scientific research organisations.
What to do before the gears start turning?
Mark the event date in your business calendars: Monday and Tuesday, 21 and 22 June 2021.
Choose a development of yours and present it at the Forum in an expert paper.
Register your innovation and compete for the TARAS award.
The last year has deprived us of the opportunities for socialization, so we are very happy to be able to offer you a virtual space for networking.
Why you should attend the Industrial Forum