The event will open with a keynote address by Jasna Hengović, Female Engineer of the Year
25 Jan 2021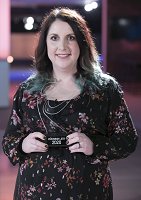 As Jasna, then an elementary school pupil, faced prejudice on how she should stick to playing videogames in her computer class, something akin to stubbornness has awoken in her, or more likely perseverance and decision not to accept the deeply entrenched beliefs of her environment. Today, Jasna Hengović is a proud team member at Cosylab, developing proton therapy software for less invasive cancer treatments.
Her keynote address will open day one of the 12. Industrial Forum. We received 53 nominations from various engineering environments and Hengović was selected among the ten finalists. "This proves that girls can make a career in any engineering profession," said Darko Švetak, editor-in-Chief of IRT3000 magazine.
The Female Engineer of the Year competition is organised by IRT3000 magazine, Mediade and other partners. 103 nominations have been received in the three years of running the competition. The Female Engineer of the Year event is a part of the We are going to be engineers! project, which aims to motivate the youth for engineering, technology, natural sciences and innovation.
The organisation of this event has given the IRT3000 magazine team the necessary experience to successfully organise the Industrial Forum IRT 2021 online.