11. Industrial Forum IRT 2019 – Register your Professional Papers
08 Mar 2019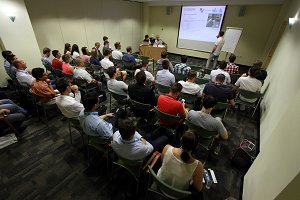 Come March, nature and economic activity wake up and begin to blossom in developed economies. We hope you have entered the new year successfully and that the business outlook is good. We invite you to share your innovations and achievements with the expert audience when we meet at the 11. Industrial Forum of Innovation, R&D and Technology on 3 and 4 June at the known location in Portorož.
But we, the event organisers, have to do our "homework" first and so we wish to invite you to prepare and register your professional papers.
Please register your papers for the 11. Industrial Forum IRT until the end of March
Please submit the abstract of your professional paper (up to 1500 characters) until the end of March. The paper should deal with at least one of the forum's central topics and its content should fit the programme. Please follow this link for all details about the registration of your paper. Don't forget – the delivery date is 31 March.
Do you have an unrivalled product, service or solution? Are you a step ahead of the others? Are you the boldest of them all?
The prestigious TARAS industrial award is already waiting for a new recipient. It will be presented by a jury of experts for the most successful collaboration between the enterprise sector and the scientific-research sphere in the field of innovation, development and technology.
We are sure that you also have a top innovation, solution or best practice that could compete for the title of the best in the domestic industry for 2019. Submit the application form and our expert commission will review your product, service or achievement in detail. Awards and recognitions for the best among them will be waiting in Portorož.
We are expecting your registration of an innovative project or achievement until 30 April 2019. Please follow this link for all details about the registration process.
Success is contagious, and it brings a smile to your face. This year, we wish you an exceptionally cheerful smile! See you in June in Portorož.